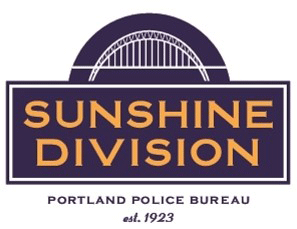 The Sunshine Division operates year-round:
To provide temporary relief for essential food, clothing, and small household items directly to more than 16,000 qualified individuals and families within the City of Portland at their two distribution sites.
To provide over a 1.5 million pounds annually of free bulk food, clothing, holiday food, and/or emergency food box resources to more than 50 local schools, churches, and social service organizations.
To promote, accept, manage and distribute food and clothing donations via a wide array of partners and channels, while continuing the tradition of treating all clients with dignity and understanding.
To work with the Portland Police Bureau as a non-profit partner that provides year round emergency food box and referral resources to all members of the Bureau, thus providing a free tool and resource to uniquely assist members of the community in crisis 24 hours a day. We also pair nearly 500 children with Officers via our Izzy's Kid's "shop with a cop" program to outfit low income children with new school clothing each year.
More than nine decades after the early humanitarian efforts by uniformed and volunteer police – and still in a vital partnership with Portland Police Bureau – Sunshine Division continues its fundamental mission: to provide emergency food and clothing relief year-round to Portland families and individuals in need. During the life of Sunshine Division, we've grown into a 501(c)(3) nonprofit agency that relies solely on donations to fund the collection and distribution of food and clothes.
The Sunshine Division has a long history of success, growing exponentially in recent years; quadrupling annual revenue in the past decade.  The previous year has seen not only record fundraising in every event, but also the opening of the first additional facility in our 95-year history.
We are looking for a leader in fundraising who can embrace this long-cherished Portland tradition, engage meaningfully in our culture of service, and facilitate our continued growth for the future.  The Sunshine Division seeks a trailblazer who can build on our success and move us to the next level, so we can expand the programs we offer to our community.  In Addition, we are in the exploratory phases of a capital campaign and require a Director of Philanthropy and Corporate Giving to help helm these efforts.
GENERAL DESCRIPTION OF POSITION
The Sunshine Division, a 95-year-old organization with the mission of helping families and individuals in need in the Portland area, seeks a Director of Philanthropy and Corporate Giving to join its engaged team of staff, board, members and donors. The Director of Philanthropy and Corporate Giving will oversee the strategic planning and implementation of the fundraising strategy for the entire year. Working with the organization's Executive Director and professional staff, the Director of Philanthropy and Corporate Giving will ensure that all fundraising efforts are consistent and focused, deploying the appropriate people to assure that the organization's various programs are effectively funded.
The ideal candidate will be a talented fundraising professional, with a solid track record of building deep donor relationships, using a hands-on approach to cultivate and steward donors so they are inspired to give generously and consistently.  The candidate must be able to carry a portfolio of donors of their own and facilitate corporate relationships.  This crucial work is necessary to move The Sunshine Division forward to a sustainable future.
The ideal candidate will be a strong, collaborative leader, skilled at motivating the board to engage their own portfolios of donors most effectively.
The successful candidate will be a strategic thinker, able to see the big picture, while simultaneously assuring operational effectiveness to create success.
ESSENTIAL FUNCTIONS/MAJOR RESPONSIBILITIES:
Fundraising Goals and Strategy- Provide leadership to the board and staff to ensure that annual fundraising goals are achieved.
The successful candidate will:
Develop fundraising plan and strategy for the entire year, assure the plan is adjusted as needed to assure The Sunshine Division successfully fulfills its mission. This includes strategies for general appeals, events, major gifts, and planned giving.
Oversee implementation of The Sunshine Division's fundraising programs to carry out the organization's mission. Working with the Director of Events, Marketing and Communications, oversee the development of annual appeals, support successful events by meeting sponsorship and fundraising goals.
Enhance the Sunshine Division's image by being active and visible in the community and by working closely with other professional, civic and private organizations.
Contribute to the planning stages and implementation of potential future capital campaign.
Direct Fundraising- The Director of Philanthropy and Corporate Giving will work closely with other members of the professional fundraising team of the Sunshine Division to build a donor pipeline and identify appropriate strategies to cultivate, solicit and steward donors with the potential to make meaningful gifts.  The Director of Philanthropy and Corporate Giving will be directly responsible for 60-80 prospective donors, with a focus on gifts of $10,000 to $100,000, and will help assure gift strategies are aligned and coordinated with events and general organization activities.
The successful candidate will:
Work with the Executive Director, Major Gifts Officer and others to assure a pipeline of major gifts prospects is identified, updated as needed, and that appropriate cultivation, solicitation and stewardship strategies are implemented.
Educate donors about the Sunshine Division and its mission.
Engage donors in the mission and vision for the Sunshine Division and cultivate them for eventual solicitation.
Assure that solicitation of donors is done respectfully at the right time and for the right purposes.
Steward donors and their gifts to the Sunshine Division as appropriate and in accordance with the fundraising strategy.
The Director of Philanthropy and Corporate Giving will independently visit with potential donors, as well as coordinate visits by board members and volunteers as appropriate.
The Director of Philanthropy and Corporate Giving will draft proposals, solicit individuals, and, working with staff, will assist with the planning and execution of small cultivation gatherings.
The successful candidate's performance will be measured by the number of substantive visits made and gifts raised.
Corporate Relationships and Donations – Cultivate strong community corporate relationships.
Assure the Sunshine Division maintains current corporate partnerships and relationships as a crucial part of the services provided to the community.
Engage and steward current corporate partners to give more generously.
Foster new, beneficial relationships within the corporate community to ensure continued growth of the organization.
From time to time the Director of Philanthropy and Corporate Giving may take on other duties as defined by the board of directors or Executive Director.
SUPERVISOR RESPONSIBILITY:
Oversee Major gifts officer as well as guide other members of the fundraising team.
REPORTS TO:
Executive Director of the Sunshine Division 
PROFESSIONAL QUALIFICATIONS:
A bachelor's degree or its equivalent
Five or more years successful senior nonprofit experience, including direct supervision of fundraising staff, or its equivalent.
Demonstrated ability to develop, oversee and successfully implement comprehensive fundraising strategies.
Demonstrated ability to create and manage complex budgets, including budget analysis, and ability to report financial findings to a board.
Strong organizational abilities including planning, delegating, program development and task facilitation
Demonstrated ability to convey a vision of The Sunshine Division's strategic future to staff, board, volunteers and donors
Demonstrated ability to understand and negotiate complex contracts, leases and partnerships.
PROFESSIONAL SKILLS AND ATTRIBUTES:
Ability to collaborate with and motivate board members and other volunteers
Transparent and high integrity leadership
Strong written and oral communication skills
Ability to interface with and engage diverse volunteer and donor groups
Demonstrated ability to oversee and collaborate with staff
Strong public speaking ability
Ability to work a highly flexible schedule with frequent evening and weekend work.
Salary commensurate with experience and other qualifications.  Please indicate required salary in your cover letter.
Outstanding benefits package including:  100% employer covered health and dental insurance, employer contribution to 401K, employer covered life insurance, and generous paid time off.
To Apply:
The search for this position is being conducted by our Consultants.  To apply, please submit cover letter, resume, and three professional references to: [email protected]
For questions, please contact [email protected]
To learn more about The Sunshine Division, visit us at www.sunshinedivision.org
Review of applications will begin December 28th. Position will remain open until filled.