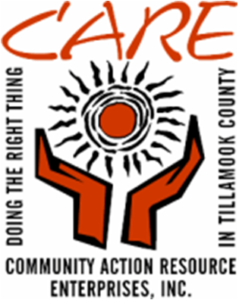 Community Action Resource Enterprises (CARE) is Tillamook County's homegrown, locally controlled, non-profit social service agency. Created in 1991 to help ease the effects of poverty in Tillamook County, CARE has grown in direct proportion to the need in our community. We now provide a wide array of services for people in crisis and others who struggle to make ends meet.
Position Announcement
Director of Development
CARE is Tillamook's locally grown non-profit organization helping to alleviate the effects of poverty in Tillamook County. Founded in 1991, CARE provides a variety of Emergency and Homeless services including placement into housing with case management, basic needs support, and energy assistance; Healthy Families home visitation for families with infants; and senior and disabled assisted living at Kilchis House and Nehalem Bay House.
We are looking for a leader in fundraising who can embrace our homegrown, locally controlled organization, engage meaningfully in our culture of service, and facilitate our continued growth for the future. CARE seeks a trailblazer who can build on our success and move us to the next level, so we can expand the programs we offer to our community.
GENERAL DESCRIPTION OF POSITION
CARE, an almost 30-year-old organization with the mission of helping families and individuals in need in Tillamook County, seeks a half-time Director of Development to join its engaged team of staff, board, and donors. The Director of Development will oversee the planning and implementation of the fundraising strategy for the entire year. Working with the organization's Executive Director, the Director of Development will ensure that all fundraising efforts are consistent and focused, to assure that the organization's various programs are effectively funded.
The ideal candidate will be a talented fundraising professional, with a solid track record of building comprehensive donor acquisition strategies. The candidate must be able to facilitate strong community relationships, to support the growth of a diverse and active donor pool. This crucial work is necessary to move CARE forward to a sustainable future.
The ideal candidate will be a strong, collaborative leader, with hands on fundraising experience.
The successful candidate will be a strategic thinker, able to see the big picture, while simultaneously assuring operational effectiveness to create success.
ESSENTIAL FUNCTIONS/MAJOR RESPONSIBILITIES:
Fundraising Goals and Strategy- Provide leadership to the board and staff to ensure that annual fundraising goals are achieved.
The successful candidate will:
• Develop fundraising plan and strategy for the entire year, assure the plan is adjusted as needed to assure CARE successfully fulfills its mission. This includes strategies for general appeals, events, major gifts, grant writing and planned giving.
• Oversee implementation of CARE's fundraising programs to carry out the organization's mission. Working with the Executive Director, oversee the development of annual appeals, support successful events by meeting sponsorship and fundraising goals.
• Enhance CARE's image by being active and visible in the community and by working closely with other professional, civic and private organizations.
• Spearhead a successful social media presence by effectively utilizing technological and marketing skills.
Direct Fundraising- The Director of Development will work closely with the Executive Director to build a donor pipeline and identify appropriate strategies to cultivate, solicit and steward donors with the potential to make meaningful gifts. The Director of Development will be directly responsible for 10-20 prospective donors, with a focus on gifts of $1,000 to $10,000, and will help assure gift strategies are aligned and coordinated with events and general organization activities.
The successful candidate will:
• Work with the Executive Director and others to assure a pipeline of major gifts prospects is identified, updated as needed, and that appropriate cultivation, solicitation and stewardship strategies are implemented.
• Educate donors about CARE and its mission. As well as engage current donors and volunteers to help expand our circles by holding house parties and other small introductory gatherings.
• Engage donors in the mission and vision for CARE and cultivate them for eventual solicitation.
• Encourage continued leadership level giving, assuring that solicitation of donors is done respectfully at the right time and for the right purposes.
• Manage the direct mail/solicitation program
• Research foundation prospects and write grants
• Engage and steward current corporate partners to give more generously.
• Increase corporate giving through event sponsorships and other activities.
• Steward donors and their gifts to CARE as appropriate and in accordance with the fundraising strategy.
The Director of Development will independently visit with potential donors, as well as coordinate visits by board members and volunteers as appropriate.
The Director of Development will draft proposals, including foundation grants, solicit individuals, and, working with staff, will assist with the planning and execution of small cultivation gatherings.
The successful candidate's performance will be measured by the number of substantive visits made by the fundraising team and gifts raised.
From time to time the Director of Development may take on other duties as defined by the board of directors or Executive Director.
SUPERVISOR RESPONSIBILITY:
None
REPORTS TO:
Executive Director of CARE
PROFESSIONAL QUALIFICATIONS:
• A bachelor's degree or its equivalent
• Five or more years successful senior nonprofit experience,
• Demonstrated ability to develop, oversee and successfully implement comprehensive fundraising strategies.
• Demonstrated ability to create and manage complex budgets, including budget analysis, and ability to report financial findings to a board.
• Strong organizational abilities including planning, delegating, program development and task facilitation
• Demonstrated ability to convey a vision of CARE's strategic future to staff, board, volunteers and donors
PROFESSIONAL SKILLS AND ATTRIBUTES:
• Ability to collaborate with and motivate board members and other volunteers
• Transparent and high integrity leadership
• Strong written and oral communication skills
• Ability to interface with and engage diverse volunteer and donor groups
• Demonstrated ability to oversee and collaborate with staff
• Strong public speaking ability
• Ability to work a highly flexible schedule with frequent evening and weekend work.
• Demonstrated ability to interface with and effectively utilize social media platforms and other forms of technology-based marketing.
This is a half-time position with salary starting at $30,000 commensurate with experience and other qualifications.
To Apply:
Please provide your typed response to the following question, in your own words:
What does the word "home" mean to you? How can this concept affect those facing issues of poverty?
The search for this position is being conducted by our Fundraising Consultants. To apply, please submit cover letter, resume, your typed response to the application question and three professional references to: [email protected]
For questions, please contact [email protected]
To learn more about CARE, visit us at https://www.careinc.org/
Review of applications will begin June 14th, 2019. Position will remain open until filled.